301 years ago, Robinson Crusoe, widely considered the First English Novel, was released in England to enormous praise. Audiences loved the simple story of a castaway who spends 28 years on a remote tropical island near Trinidad. Poor Crusoe encounters prisoners, mutineers, and even cannibals during his adventurous stay. Yet the first foes he would face would not come with spears, torches, and guns. No. First, Robinson Crusoe would have to face fear, isolation, and extreme boredom.
One of the main themes of this classic work of literature is that of fear. Imagine being absolutely isolated, unsure of your own future, and given very little to keep your mind occupied. Panic could easily overtake your mind. Anxiety could easily flood into your heart. FEAR could become your primary emotion. Yet Daniel Defoe brilliantly allows us to witness Crusoe triumph over fear, panic, and anxiety. He does so through faith in God and developing a pattern of productivity.
In fact, one of the very first things Crusoe does, after collecting all of the resources from the shipwreck, is to sit down and develop a crude calendar and daily schedule. After a year of isolation we find that Crusoe has been able to maintain his sanity through a daily routine that includes Scripture reading, hunting, preserving his food, cooking, crafting tools, building furniture, and farming.
This pattern of productivity effectively protects Crusoe from the crippling fear and anxiety that would naturally arise in such dire circumstances. Eventually his social distancing would end, God would bring a new friend (Friday) into his life, and he would be rescued from this "new normal" of the castaway's life.
These principles are helping me through the COVID 19 Pandemic.
Developing a Weekly Schedule
So, we can't really leave the house. And, from what they're saying, this could go from days to weeks, and from weeks to months. Scary, right? So, what are you doing to keep yourself busy? What are you doing to keep yourself sane? What are you doing to keep yourself in groceries?
For those of us who are working from home, we certainly have an upper hand in this crisis. At least we know that our paychecks are still coming through, and 40-50 hours of our week will be filled with actual labor and normalcy. What about those who have recently been let go?
It is even more crucial that you begin to schedule out your 168 weekly hours. Have you established a wake-up time? Have you "time-blocked" a resume and application time into your daily schedule? Do you have scheduled specific hours every day to look for creative new opportunities that this new economy is demanding?
Perhaps you are someone, like me. Your structured weekly schedule has been completely upended.
I got to be honest, the first two days of this thing were filled with anxiety, fear, and wasteful hours online. Then I decided, at the gentle behest of my wife, that I get serious about what I'm going to be doing through this quarantine, if it were to last longer than we initially thought.
I cannot tell you the emotional relief it was for me to sit down and map out my weekly schedule.  Though my "COVID 19 SCHEDULE" is drastically different from my normal schedule, at least I now feel as if I have a plan.  I feel as if I can be productive.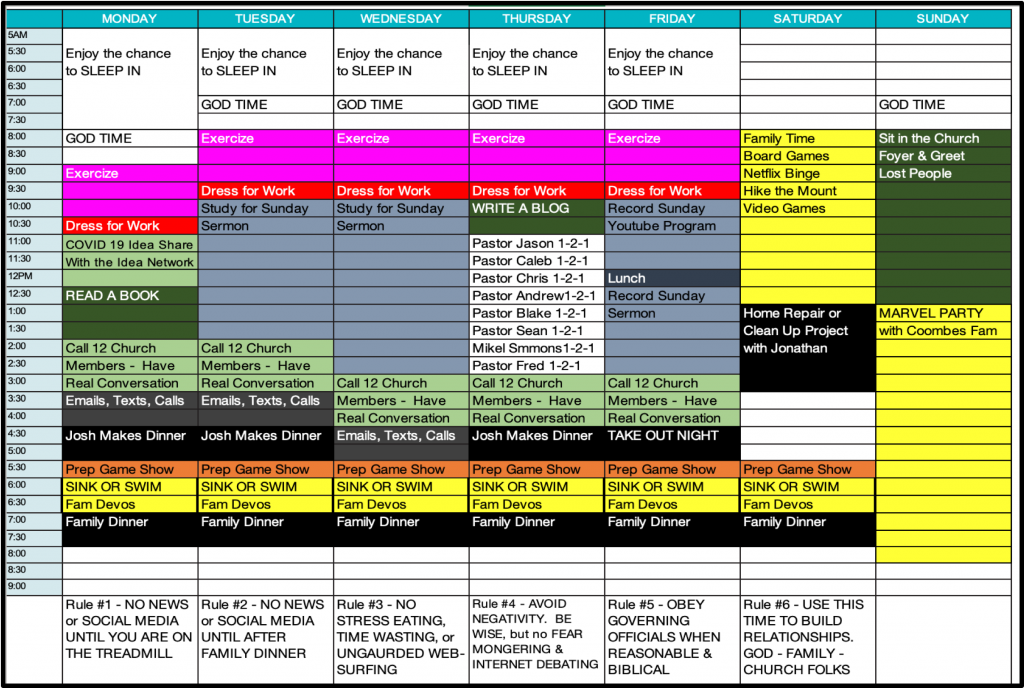 Establishing a Few Basic Rules
You'll notice on the bottom of my 168-Schedule that I've included six self-imposed rules for my own emotional and spiritual health. Here they are…
Rule #1 NO NEWS or SOCIAL MEDIA UNTIL YOU ARE ON THE TREADMILL
Rule #2 – NO NEWS or SOCIAL MEDIA UNTIL AFTER FAMILY DINNER
Rule #3 – NO STRESS EATING, TIME WASTING, or UNGUARDED WEB-SURFING
Rule #4 – AVOID NEGATIVITY.  BE WISE, but no FEAR MONGERING & INTERNET DEBATING
Rule #5 – OBEY GOVERNING OFFICIALS WHEN REASONABLE & BIBLICAL
Rule #6 – USE THIS TIME TO BUILD RELATIONSHIPS. GOD – FAMILY – CHURCH FOLKS
These are the rules that I feel are most appropriate for me during this time. What self-imposed limitations are you placing in your life so that you can remain productive and sane?
Robinson Crusoe had no choice as to his fate. However, he did have a choice as to his response and time-management. And it's pretty clear that he would've had a much more difficult time surviving had he not had such a strong faith in God, and a self-imposed productive schedule.
I want to hear from you!
What are you doing in order to maintain a sense of normalcy through this time a panic? How are you scheduling your week? What self-imposed rules are you setting for yourself so that you will exit this pandemic stronger than when you entered?
Comment below and I'd love to interact with you.